Update 1/13/17: For the latest information on CSST bonding, check out my latest blog post on the topic: CSST Bonding
Several months ago I wrote a blog about how great PEX tubing is, and today I'm going to discuss the equivalent for gas piping – Corrugated Stainless Steel Tubing, which is commonly referred to as CSST.  This is a product that can be used for the distribution of natural or LP gas throughout buildings.
A very brief history of CSST
CSST was invented in 1988, and gained approval for use in all commercial and residential installations throughout the United States in 2003.  Since then, CSST has quickly gained in popularity, and is estimated to be used in more than half of all new homes built today.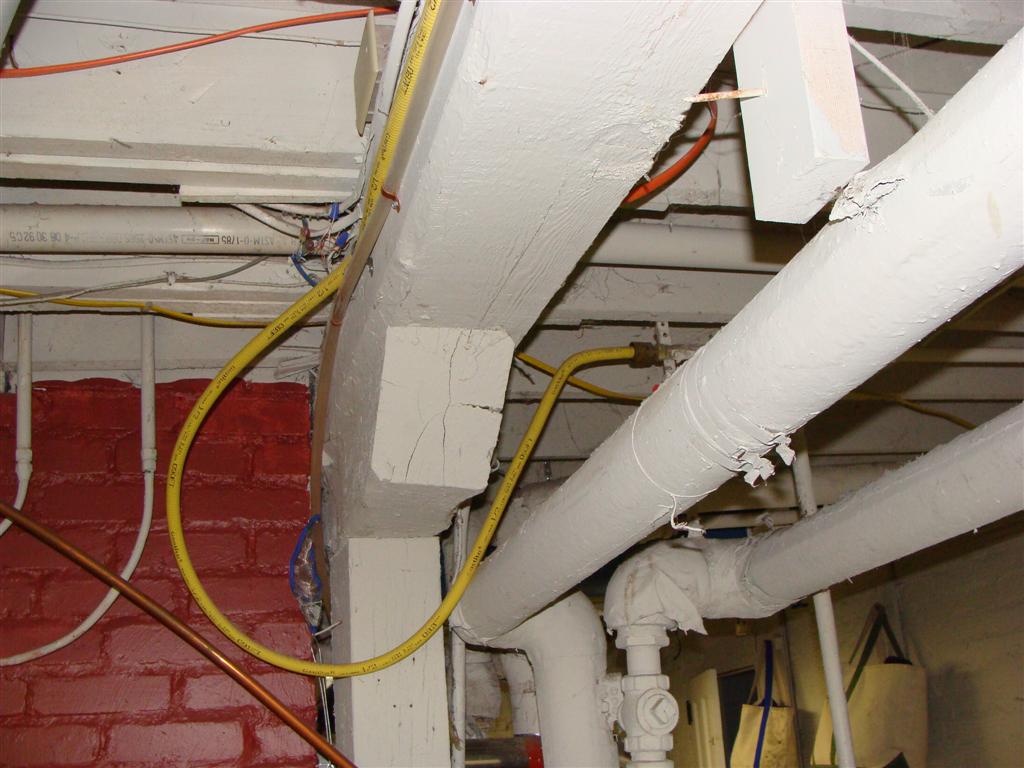 The main attraction to CSST is that it's flexible and relatively easy to install when compared to standard gas piping.  The fittings for rigid gas piping need to be tediously screwed together, and the piping itself must be measured, cut, reamed, threaded, then cleaned.  With CSST, the piping just gets cut to length and a fitting attached to the end.  It's easy to understand why it has become such a popular product.
CSST doesn't seem to be as popular in Minnesota
Unlike many other parts of the country, Minnesota allows the use of flexible soft copper for gas piping.  The installation procedure for flexible soft copper is comparable to CSST, making it far easier to install than rigid gas piping.  For plumbers in Minnesota that have always installed soft copper and are comfortable doing it, I'm guessing there's probably no point in changing products.  CSST is also more expensive than standard gas piping or flexible copper tubing.
Another reason that I probably don't see as much of this material is that it's not readily available to the handy homeowner.  While most building products can be easily purchased at any home improvement store, CSST can't.  That's probably a wise thing for the CSST industry, because it means there will be less improper / unskilled installations.
How to identify CSST
CSST looks similar to a gas connector, but is easily distinguished by a flexible yellow polyethylene jacket on the outside.  Gas connectors will often have a coating on the outside – not a jacket.  CSST will also be identified as such on the jacket itself.  The most common type of CSST that I see here in the Twin Cities is Gastite – in fact, that's all I can ever recall seeing.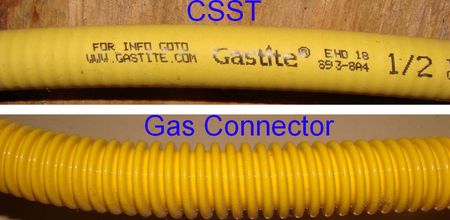 CSST Installation Requirements
The general rule for CSST is that it must be installed in accordance with the manufacturer's instructions.  Because I only see Gastite CSST, I'm listing a few of their installation requirements.  Every other manufacturer has similar requirements.  These requirements come directly from Gastite's 102 page installation manual (fun reading).
Tubing shall be supported

in a workmanlike manner with pipe straps, bands or hangers suitable for the size and weight of the tubing, at intervals not to exceed those shown in Table 4-3

.   The referenced table requires support every 4′ for 3/8″ pipe, every 6′ for 1/2″, and every 8′ for anything larger.  "J" Hooks may not be used.

Tubing routed on top of ceiling joists and other structural members which co

mply with the horizontal support spacing requirements will be considered sufficiently supported.

Any portions of the

exposed stainless steel tubing

shall be wrapped with tape or sleeved to prevent threats by acids or chloride based cleaning solutions for masonry. Self-bonding silicone tape is recommended here for durability.

The Gastite® Mechanical Fittings have been tested and listed per the requirements of ANSI LC-1 for

concealed use.  

I include this reference because I've heard other home inspector say that the fittings are never allowed to be concealed.  The manufacturer says they are.

Outdoor installations –

Along side a structure – When installed along the outside of a structure (between the ground and a height of 6 ft.) in an exposed condition, the CSST shall be

protected from mechanical damage

inside a conduit or chase.

When it is necessary to install

Gastite through masonry

materials the tubing shall be routed through a conduit that is a ½" larger in diameter (to ease routing) than the OD of the CSST and appropriate for the application. The sleeve must maintain a continuous watertight barrier between the masonry material and the CSST, up to or past the edge of the masonry hole.

Where all three of the following conditions exist

mechanical strike protection must be used: Concealed, Constrained, and Within three inches of a potential thread.  

That means strike plates must be used.

For use with movable appliances, Gastite® must be rigidly terminated before the appliance connection.

This means

CSST is not an acceptable substitute for an

appliance connector

.

Where it is necessary to install Gastite through sheet metal enclosures (such as fireplaces) the tubing should be routed or supported to prevent physical contact with the enclosure. If direct contact cannot be avoided a rubber grommet may be used to prevent physical contact with the enclosure. Otherwise a Gastite angle stub or rigid pipe components must be used.
Direct bonding of Gastite® CSST is required for all gas-piping systems incorporating Gastite® CSST whether or not the connected gas equipment is electrically powered.  

This last item has been the topic of many blogs and articles, and is apparently one of the more important things to look for.  Gastite has a great video on their web site showing how it's done – click

here

to see it.
Reuben Saltzman, Structure Tech Home Inspections – Email – Minnesota Home Inspections